When it comes to helping to create a safer San Francisco, SF SAFE has a long history of leading the way on community initiatives. Here's a glimpse at some of our community collaborations.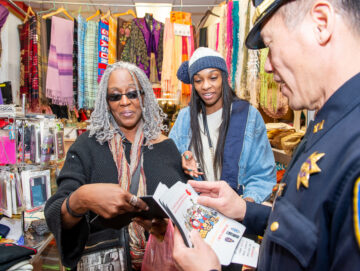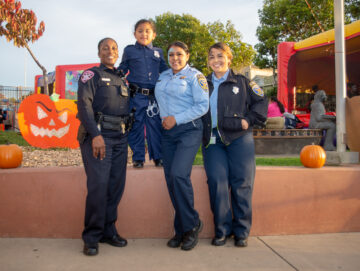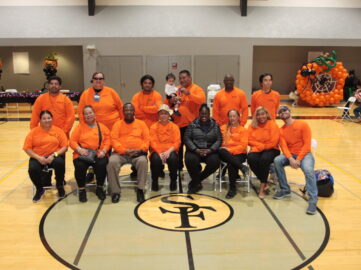 Community Policing Activities & Events:
SF SAFE partners with the SFPD and other city stakeholders to host a variety of safety-centric events, such as "Coffee with a Cop," "Munch & Mingle," "National Night Out," press conferences and more. Keep updated on all of SF SAFE's happenings by signing up for the organization's monthly newsletter or by following us on social media on Twitter and Facebook.
Annual Lunar New Year Extortion Prevention and Public Safety Press Conference:
Each year, SF SAFE joins with the SFPD, city and community leaders to host a Lunar New Year Extortion Prevention and Public Safety Press Conference and merchant walk surrounding celebrations of the Chinese New Year. The citywide initiative educates Asian merchants and Lunar New Year celebrants on how to prevent extortion, burglary and robbery during the festive season—a time that can experience an uptick in related crimes. As part of this event, SF SAFE and SFPD representatives walk through Chinatown to directly communicate with merchants and community members.
Community Organizing:
SF SAFE's history of community organizing in San Francisco runs deep. Some of SF SAFE's community organizing efforts include partnering with the San Francisco Fire Department (SFFD) on the city's Neighborhood Emergency Response Team (NERT) program, with the SFPD on Community Police Advisory Boards (CPABs) and spearheading public safety info initiatives in local neighborhoods.
The SFFD's NERT program grew out of SF SAFE's Neighborhood Watch Groups following the Loma Prieta Earthquake. At that time, SF SAFE, the SFFD and the community came together to form NERT to help residents feel less vulnerable when facing future disasters. Today, NERT is a free training program for individuals, neighborhood groups and community-based organizations in San Francisco. Through this program, individuals learn the basics of personal preparedness and prevention; this includes hands-on disaster skills that will help them respond to a personal emergency and act as members of a neighborhood response team. Register online on NERT's website or call 415-970-2022.
The CPABs are groups of residents and business representatives who are selected by each district station captain to assist in problem-solving surrounding crime and safety issues, and to act as a "think tank" for community policing activities. All members represent larger communities and groups and have a diverse make-up. Similar to SF SAFE's Neighborhood Watch Groups, the CPABs are a way for community members to come together, problem solve and make San Francisco safer.
In addition to these community organizing efforts, SF SAFE also leads public safety information initiatives in city neighborhoods. Read SF SAFE's monthly newsletter and social media posts to keep abreast of this outreach.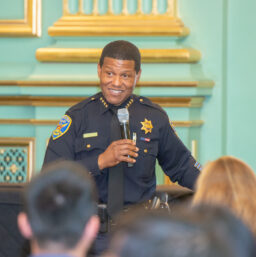 SF SAFE's events build a bridge between the SFPD and community that ultimately help create a safer San Francisco. Find out more about National Night Out, SFPD Station Events and more.
One of the best ways community members can help make San Francisco safer is by getting to know local police officers and engaging in "community policing" by participating in meetings, events and other opportunities that arise. Here's an overview of SFPD stations.
Want to know which San Francisco Police Department station your residence or business falls under? Visit the SFPD station finder to locate your station and to subscribe to its newsletter.
To subscribe to a newsletter, scroll down to the bottom of that station's page to the large yellow box, where you can enter your email address. SFPD newsletters include information on neighborhood events, statistics, officer of the month and more!
Captain David Maron
201 Williams Ave.
San Francisco, CA 94124
415-671-2300
Captain Rachel Moran
630 Valencia St.
San Francisco, CA 94110
415-558-5400
Captain Gaetano Caltagirone
461 - 6th Ave.
San Francisco, CA 94118
415-666-8000
Captain Chris Canning
301 Eddy St.
San Francisco, CA 94102
415-345-7300
Captain Julian Ng
766 Vallejo St.
San Francisco, CA 94133
415-315-2400
Captain Derrick Jackson
1125 Fillmore St.
San Francisco, CA 94115
415-614-3400
Captain Timothy Falvey
1251 3rd St.
San Francisco, CA 94158
415-575-6000
Captain Derrick Lew
1 Sgt. John V. Young Ln.
San Francisco, CA 94112
415-404-4000
Captain Christopher Pedrini
1899 Waller St.
San Francisco, CA 94117
415-242-3000
Captain Eric Vintero
2345 24th Ave.
San Francisco, CA 94116
415-759-3100