SAFETY AWARENESS
FOR
EVERYONE
WE WORK WITH THE COMMUNITY TO CREATE SAFER, MORE VIBRANT NEIGHBORHOODS.
We offer a range of free safety services to the residents of San Francisco
NEIGHBORHOOD WATCH
NEIGHBORS WORKING TOGETHER TO MAKE THEIR NEIGHBORHOOD SAFE. LET SF SAFE GET YOU STARTED.
IN THE COMMUNITY
SF SAFE BRINGS THE COMMUNITY TOGETHER FOR SAFETY-CENTRIC EVENTS
LIKE NATIONAL NIGHT OUT AND COFFEE WITH A COP.
BUILDING RELATIONSHIPS
SF SAFE BRINGS COMMUNITY MEMBERS, BUSINESS OWNERS, AND CITY LEADERS TOGETHER TO HAVE HEALTHY COMMUNITY-LED DISCUSSIONS, PROBLEM SOLVE, AND CREATE PARTNERSHIPS TO MAKE SAN FRANCISCO SAFER.
RESIDENTIAL &
BUSINESS SECURITY SURVEYS
SF SAFE CAN VISIT YOUR HOME OR BUSINESS TO RECOMMEND HOW TO IMPROVE ITS SAFETY AND SECURITY.
"Thank you for the great work you do to make our community safer."
"Thank you for the peace of mind your organization provides. It makes me feel a lot more confident with how I lock my bike around the city. Thank you."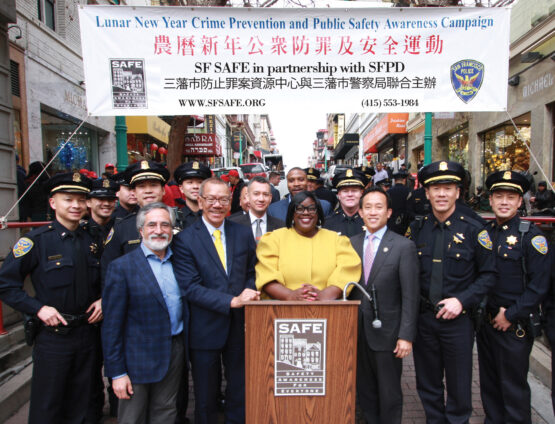 Greetings and thanks for visiting SF SAFE!
For four decades, SF SAFE, Inc. has engaged, educated and empowered San Franciscans to build safer neighborhoods. We do this in partnership with the SFPD on crime prevention, education, community engagement and public safety services that result in a stronger and more vibrant community.
Our array of safety-centric services provide community members with the tools, knowledge and skills to address and prevent crime and violence, and to become anti-crime advocates in their own neighborhoods.
I welcome you to explore our programs and services to find out how SF SAFE might be of assistance to you. Working together, we can create a safer San Francisco.
In community,
Kyra
Kyra Worthy
Executive Director
SF SAFE, Inc.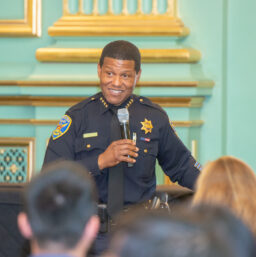 SF SAFE's events build a bridge between the SFPD and community that ultimately help create a safer San Francisco. Find out more about National Night Out, Coffee with a Cop
and more.